MyT Womens Business is a womens fitness training group in Mont Albert
Are you looking for a fun and effective way to increase your energy, strength & fitness?  MyT Womens Business is a specific program for women of all ages to strengthen / repair your core, increase your vitality & fitness, improve your muscle tone & strength and improve your wellbeing.
Our program includes a comprehensive initial assessment so you can feel safe and secure that the program is tailored for you.  Then each session you'll train alongside other women to achieve your individual goals.
MyT Womens Business | Small Group Personal Training
Location: Mont Albert Reserve, Mont Albert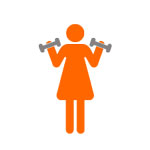 Initial 1:1 Health Assessment (mobility, strength & fitness testing)
TERM 3 starts on 15th July
Weekly Group Training Sessions | Wednesdays at 9.30am – 45mins
Personalised homework & nutrition plan
Small Group Personal Training | 6 places only
SAVE 50% on our regular PT rates
There's a long list of additional benefits of regular strength & fitness training for women:
Regulate hormones
Strengthen & tone muscles
Strengthen & repair core
Improve your bone density
Lower your blood sugars & cholesterol
Reduce back pain
Increase strength, energy & vitality
Sleep better
Lose excess weight / regain muscle
Falls prevention / improved balance
Improve your wellbeing and recovery
If you or someone you care about would benefit from a fun & friendly weekly catch up with other women to improve their health, please get in touch and we can have a chat to see if this is the right program for you.  Otherwise simply book in to your first session and we will give you a call to get you started.