MyT Kids Personal Fitness Training
We all know kids need regular exercise (60 minutes per day) to be healthy.  However many parents are struggling to meet the demands of a hectic working schedule and cannot find the time or are unsure how to best help their kids exercise & make healthy food choices.  Often kids are participating in team sports or school activities but don't have the stamina, strength, co-ordination or skills to get the most out of it.
That's where we can help. Our team of professional qualified personal trainers are specialists in helping your child through exercise and healthy eating.  All trainers hold specialist kids fitness qualifications, current Working With Children licences and many are parents too!
Helping kids improve their confidence, fitness and skill is not about kicking a ball around, and it's definitely not a quick fix solution.  It's about implementing healthy exercise, attitudes and eating habits that will last a lifetime.
Our MyT Kids small group personal training program is about developing fitness, having fun and making friends!  Kids of all abilities are welcome!  There are some key areas that our programs address to help inform and inspire your children to make great choices:
Positive Self Image

Healthy Food Choices

Staying active for strength & energy

Sleeping patterns

Weight management
Our structured kids personal training program includes:
Initial goal setting discussion and fitness testing with parents
a comprehensive plan including regular training and a family activity plan
child appropriate healthy eating guide in line with your goals for your child
monthly re-assessment
Our approach is to conduct this as a whole family project.  Children learn best through positive role modelling and consistency.  We are here to support you develop a plan that works for your family, and creates the outcomes you desire.  But it's up to you to ensure your child participates fully, and completes their homework.
If your child is overweight, lethargic, sleeping poorly, irritable or having trouble concentrating, you may see remarkable improvements with the implementation of a structured exercise & healthy nutrition program.
Click here to view the My Trainer guidelines for children undertaking personal training
MyT Kids Small Group Personal Training | Mont Albert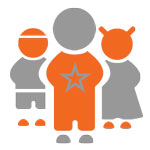 As well as 1:1 options at your home we are thrilled to launch MyT Kids Small Group Personal Training.
Maximum 6 kids per group
Focused on strength, fitness, confidence and fun.  Sessions run to the school term and you can join in any time.
10 week term program
45 minute sessions
Save 50% off the 1:1 price
MyT Kids Group Training Sessions:
10-12 year old boys group | Wednesdays @ 4.30pm
New groups coming soon
We can start a group in your area for 3 kids!